I started doing link building seriously in 2008. Over that time, I progressed throughout my career learning the different link building tactics and techniques, and looking for ways to scale link building activities to secure successful placements.
The right suite and stack of link building tools with the right link building system and tactics will allow you to secure links in a way that is cost-effective, and that won't require a lot of your time.
Without the right system or link building tool stack, you will find link building very time-intensive. And you will also find it more difficult to secure link placements.
One of the biggest frustrations is working on link building for several hours, only for no links to be secured. This can be 40-160h of your time in a month.
From my experience, you want to try to secure link placements at a business cost of less than $100 per placement. (Even if you are building links for free, there is still a business overhead cost that you will need to consider.)
In this article, I've shared insights into my experience and suggestions with the link building tools. And how they can be applied to SEO campaigns that you're working on. Or even how to build it into your business successfully. (E.g. If you are an agency owner)
This is my go to SEO tool. I've been using this daily for the past few years and it is a necessary tool for any serious SEO or link builder to have in their toolkit. In my first year of running my freelance SEO business, I used free tools which did allow me to fulfill the tasks that I was doing. However, having access to the data that I can collect from Ahrefs is second to none.
There are a few things that really stand out with Ahrefs.
The ability to harvest backlink data.
The ability to find link building opportunities through tactics such as broken backlink building.
To curate data quickly to qualify the types of links and the prospects that's available.
You should keep in mind that Ahrefs only helps you with the data and qualifying the types of sites and content that can help you secure links. This tool does not offer anything to do with the outreach process to help you secure links.
I used to use this tool religiously when it was Majestic SEO. I would constantly harvest the data using their Trust Flow metric to find sites and pages that could pass authority to the sites that I would want to rank.
At the time, I would aim to get free links, but most of the time I had to pay those webmasters to get a link on their website.
Their tool was handy, but over time I found that I was able to get more data that I could apply to my campaigns using Ahrefs tool.
It is still a tool that I would use. It's sometimes handy to cross-check the link data from the other tools to see if there are any 'gap' opportunities that could be seized.
I've been using Moz for years and before I subscribed to Ahrefs, I was using the free version of Moz's Link Explorer as a part of my SEO link building stack.
The free version of the tool would allow me to see the top links on a competitors website, but it would limit the number that I could see or export.
If you are tight with your budget and you are running an SEO campaign across a couple of sites, then using this free version of the tool will allow you to get started. But if you want to advance in your link building, you will need to upgrade to the professional version or switch to another tool.
Below is a video tutorial that shows me using the tool.
An industry friend of mine actually used to be the owner of this tool before he sold it. I did use it a few times and it is also handy because it is an all in one SEO tool for link building. It was developed by a team with strong SEO experience and that had constant feedback into the link building process. I would say that it is similar to Buzzstream, but aims to make the outreach process more seamless.
I think the tool is strong. I think the biggest benefit that you will get from it is managing the outreach process provided that you already have a good link building and outreach system in place.
Buzzstream is a great and cost-effective solution. I'll admit that I haven't been able to use it in the best way. But when I've developed a link building team to use it, they get it and they automate the link building and outreach process for the client. So if you plan to build a team to do the outreach for you, please consider investing in this link building outreach tool.
Buzzstream allows you to manage multiple outreach campaigns through the tool, which is a web based application.
The tool works great when you stack it with data sourcing tools like Ahrefs. The tool does allow you to automate sourcing new website prospects using search operators. However, qualifying links and adding them into customized campaigns in Buzzstream will make your campaign much more targeted and improve the chances of your link acquisition.
I've used this tool on and off over the past few years. I think that this is one of the most handy email tools that you can use to scale your link building efforts if you have a system in place and you want to scale your link outreach via email in a cost-effective way.
Gmass already has tutorials that show the different tactics that can be used. But in a nutshell, you can do the following.
Create email templates that plug and play the name, website name, and any other custom fields.
Allow you to schedule your emails to send on certain days at certain times.
Allows you to receive reports and notifications of open rates and engagement.
Allows you to plan your emails to send in Google Sheets, and automate this process.
With the free version, up to 50 emails a day can be sent. More can be sent with the paid plan and it also helps to get through the spam filter.
If you are working with a single website and you want a low-cost solution, then you should consider using Gmass.
Click here to trial Gmass for free.
Pitchbox
Many link builders have been raving about the convenience of using Pitchbox. I've used them in the past and I had mixed feelings about the tool.
Pros
The tool is convenient. It pulls in data and metrics from tools such as Ahrefs, and it has an automated email sending function. If you set up everything well, it is set and forget. And then you just need to respond to the email leads that are drip fed into the email inbox.
You can also monitor your success pipeline with responses and the amount of links that you secure.
When it is compared to the price of building out a team to do it manually, it should be more cost effective if it is implemented well.
Cons
The price is an issue. Not having their price listed on the site is already an issue. And then when I was looking at the entry-level price, I think it was around $200USD per month for a single site, with the agency price being around $400USD per month.
I've heard that they put the price up to $500USD a month as an entry-level price, and that there is now a 1-year commitment of $6000USD.
My main struggle with this is it's a tool that offers convenience, but the system is crucial for successfully securing links.
Pitchbox pricing. It has recently gone up and their most basic plan now starts at $500/month and they require a minimum commitment of 1 year. I.e. $6000.
If you have a website that is already being monetized and you already have content ready that can be promoted, then I think you can consider PitchBox if you can justify the cost.
At the time, I implemented an alternative stack using Gmass and Ahrefs to source the link opportunities, and then automate the email outreach using Gmail for less than $20USD per month per user.
Thought this was quite steep for what they're offering so I went with Buzzstream instead.

I've been using HARO for years and it has worked well when I've been wanting to build my personal brand or a brand that I own. Building links for clients using HARO has been more challenging since the pitches usually need to be done on behalf of the client and some creative angles need to be used when pitching.
Below is a video tutorial showing how I used this tool for link building in the past.
I do find that it can be quite time-intensive if you don't know how to curate the pitch requests to your niche. If you can, you will be in a position to secure 4-30 links per month. And the links can appear on authoritative news sites or blogs.
All you need to do is sign-up to Help A Reporter Out with an email address and you will start receiving daily emails with requests from journalists or web editors to contribute to their story.
The tools is great and it is free. However, you must know how to pitch to capture the interest of the person asking for the request. And you must also have resources available for the person to share so you can secure a link back to the target website.
Useful resource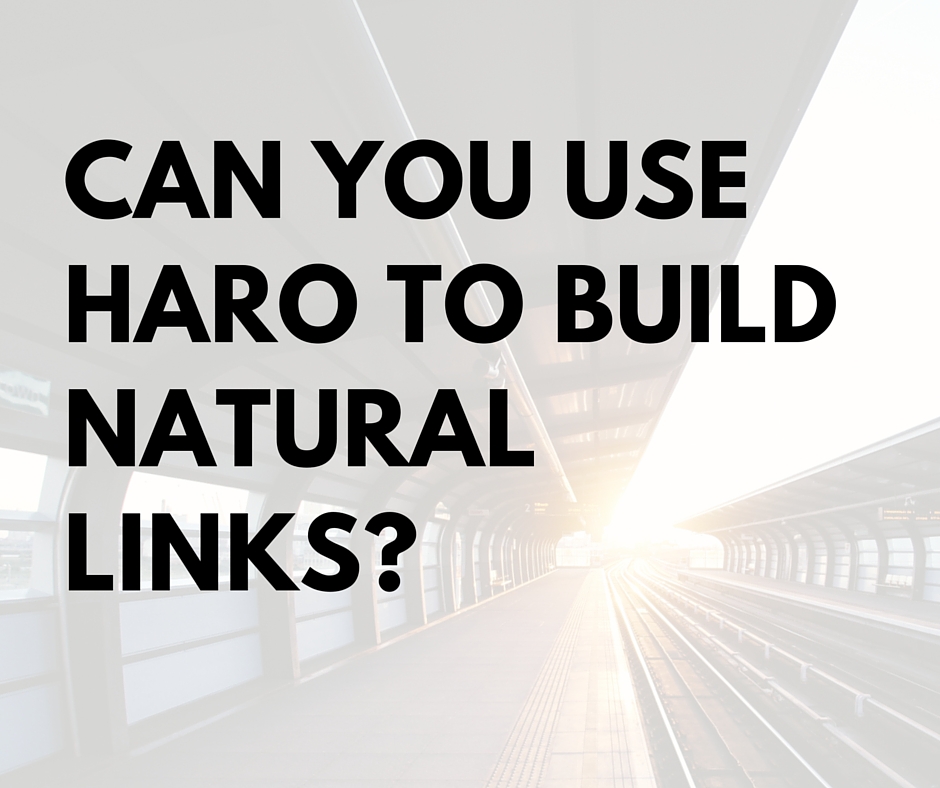 This tool is owned by another one of my SEO contacts, Dmitry Dragilev of Criminally Prolific. The tool focuses on reaching out to journalists and weaves in the pitching process with templates, the email outreach, and management to secure high-profile PR links.
I've worked with Dmitry's system and it works effectively. The tool is a bit pricey, but is good value for money compared to hiring a PR agency.
If you can afford to, invest in Just Reach Out to help you manage the PR outreach tactic for your SEO campaign.
You can watch the interview I did with him, where he discusses the tool in more detail.
Sourcebottle is similar to HARO. However, it focuses on the Australian market. Every now and then, there will be opportunities that come up for the US or the UK, but I've found that it isn't that often.
The type of content requests tend to lean towards more gossip or magazine style content. When I first started using it, I managed to get a few good links. But as time went on, the quality of the sites and the publications didn't really fit with the campaigns that I was running.
I think it is worth checking out. The cost is free, so you can sign-up and make an account. And then you can see if Sourcebottle works well for any link building campaigns that you are working on.
You can use search operators on Twitter to find link opportunities. You will be able to identify and connect with journalists and web editors, however you will need to pitch them with something that will help them with their story. You can see some of the search operators that can be used in this link building blog post.
Below is a video tutorial showing how I used Twitter in the past to find link opportunities.
I used to use Link Prospector and have a direct connection to Gareth back when he had launched his tool. I'll admit that I haven't used it in years. The good thing is if you only need to pull a list of prospects quickly, you can pay a one-off fee to generate the list for your campaign.
At the time, because we were running so many campaigns, the cost did add up a bit. But with the right system, you can use it cost-effectively for each website or link building campaign that you are running.
There are also some search operators that are already added, which can help you build your list quickly. We found at the time that we would exhaust the list because there wasn't enough sites (inventory).
I have mixed feelings about BuzzSumo. I like it because at a glance, you can see what types of content are doing well for a keyword or on a site. But the list usually isn't very extensive.
So you can see what content has been shared well on Facebook, Twitter, and Pinterest. However, Ahrefs has a similar function that will allow you to see what content has been shared across those platforms, along with the link shares and the estimated traffic that the web page is getting.
If you don't have Ahrefs in your tool stack, then it is worth considering. If you do have Ahrefs, explore the content tabs in more depth before pursuing BuzzSumo.
One of the trickiest things that can occur once you've found a good link prospect is finding the correct email address to send the pitch email to. Using Hunter allows you to find the email address and ensure that it's a valid address that will get received. This will save time, money, and energy. The last thing you want to be doing is sending an email that will bounce, or that is going to the wrong inbox and your emails aren't getting seen.
So if you can afford to, subscribe to Hunter.io to find and validate email addresses in your SEO link building process.
SEMRush is one of the main tools that I use within an agency operation mainly because it tracks rankings on a daily basis and the client reporting can be automated. The tool does have a link building element which is similar to Buzzstream, and it also has a data harvesting function that is similar to Ahrefs.
For link discovery opportunities, I think that it isn't as strong. But it does offer a good start. You will need to get creative with different search operators and keywords to find link opportunities that you will be able to secure.
There is also an outreach function that can be managed through SEMRush. This is good because you don't need to duplicate costs by subscribing to several different tools.
This is one of the OG SEO tools that I started out with. Xenu is a simple tool will provide the raw file data for a site. So the information isn't well presented, but it is free.
If you want a free option, you can use this to run a crawl of a site and source broken external links.
This is another desktop tool that is very effective. You can buy the tool for a one-off price and you can use it to scrape the data you need to execute a successful link building campaign. You can also use it for link building, but I prefer to do this manually.
Because it requires a desktop, you will need to get proxies to avoid getting your IP banned. Or alternatively, setup a stack where you run the tool on a VPN.
This isn't a link building tool, but a tool that can help you with developing the content that will maximize your chances for acquiring links. You need to publish content that is shareable and that will ultimately rank. So you need to have this as a part of your SEO and link building workflow if you decide to publish content that people will link to.
Additionally, if you plan to publish guest posts or contribute content on other sites, you want to produce compelling content that will get accepted by the web editors that you are pitching. Whilst it isn't a guarantee, you will at least get the formatting and value elements right with the content that you produce using SEO Surfer.
Click here to trial SEO Surfer.
This was my go to SEO tool between 2008 to 2011. At the time, I was engaging in a lot more black hat SEO tactics where I was just buying links for the SEO campaigns that I was working on.
SEO Spyglass is a desktop software. So I would install it with the license and I would scrape the backlink data of several websites for days at a time. Back then, we were using Google Page Rank as the most valuable website authority metric until they stopped updating it and it migrated to domain authority (DA) from Moz's SEO tool.
I still think that the tool has it's benefits. But with it being a desktop tool in the age where most tools are run via web applications, it is a bit of a tougher sell.
This tool is no longer my first choice, but I would still be open to using this tool if I wanted to try to harvest some backlink data if my current suite of tools can't provide me with the data that I'm looking for.
This is a free Chrome extension that can be used to highlight broken links on a web page. To do this at scale, I'd recommend using a paid tool like Ahrefs. However, if you want to stick to free tools, you can source a list of resource, useful links, list and roundup pages and use the tool to see if there are any broken links, which will be flagged in red if they are.
You can then make a note to pitch replacing the link with an active link to content that is on your website.
This is one of the old school sites that I used to use to find links. At first glance, it does look spammy. But it does the job if you want to use a free tool.
I recall using Ontolo years ago briefly. I think it was around the time when they had just launched and we were looking for a link building outreach and management solution. Their tool has improved and I think will help beginners to link building. I still think you will need to be creative with finding link acquisition opportunities outside of the tool, but you can easily use it for outreach and monitoring if you desire.
I've tried to use MuckRack a few times during my SEO career to shortlist and connect with journalists. I do think it has its benefits. However, I have found it easier to connect directly with journalists using HARO, or search operators on Twitter. This is because I can connect with journalists that are highly likely to take action.
I do think to find and nuture a relationship, you can leverage MuckRack as well.
This is a marketplace for link vendors and webmasters to secure engage in deals for link placements. She previously ran MyBlogGuest, which was another marketplace that got pinged by Google and lost its reputation and credibility in the industry pretty much overnight.
I have had success with securing link placements in the past via the platform. However, there isn't much volume there and I haven't used it in a couple of years.
Getting the link placements were free. So it's still worth signing up to, as there may be the odd opportunity that comes through.
Below is a tutorial video showing how I was using the platform in the past.
I've not used Mailshake, but I've been keeping an eye on this software for the past couple of years for email outreach. It interested me because of the automated email follow-up functions and integrations, and the cost is much cheaper than some of the other link building tools on the market.
The price starts from $44 per month, but can be upgraded to manage the outbound sales process as well. So if you are selling a link building service directly to customers, I think it can be worthwhile since most link building packages can be sold for $1000USD a month or more. So you can quickly get an ROI from this link outreach software.
Google Alerts is handy if you want to get alerted for mentions or certain trending topics that you can create content around to secure links for your website. It's a free tool and there are people that have had success with it. In my experience, the successful outcome from link placements have only occurred from branded mentions. It's still worth having this tool up your sleeve. Especially if you are doing SEO for a business that engages in a lot of branding exercises.
I didn't use this much, but one of my ex-work colleagues did. He used this tool to find influencers that had an audience that he could tap into. This is handy for finding people and getting data on their audience reach. So as a data harvesting tool to help with your planning and strategy, I think Followerwonk does offer value. However, you need to consider how you would apply the data to your link building campaign.
This is one of the original browser add-ons that I used to use when I was doing SEO between 2007-2014. When I was hunting for links, the browser extension had a function where I could see the links that were pointing to the site. So I would harvest that data and use it in my link building campaigns.
If you would like to use a free tool, consider using the SEOQuake browser extension.
Pipedrive is actually a sales CRM tool, but I like it because you can use the tool for less than $20 a month and it can help you build and manage your link building pipeline. The way I used it in the past was I would only add the email leads into Pipedrive once I had received a warm lead. I would then track the process until I was able to successfully secure the link placement.
If you have to pay for links, you can also add the cost into the budget section so you can get an overview of costs.
HubSpot
HubSpot has been working on becoming an all-in-one tool, adding more marketing and SEO functions to it's tool suite. If you are already using HubSpot and have this bundled in with your sales CRM, then there is no harm in also using the tool to help with your link building efforts where possible. However, it isn't at the level of the other specialist tools in the market. Especially for harvesting link data that will help you qualify and secure links.
In all honesty, I don't think this one is quite right yet. But it is something to keep an eye on.

Streak CRM is a sales CRM tool, but it also works for managing the outreach process of a link building campaign. I used to filter each campaign by link tactic and after sending a bulk set of emails out using Gmass, I would qualify the responses and then nurture the links through the funnel.
This worked really well for link building campaigns that were on a pay per link basis. So I could monitor the links in the pipeline, which would usually be a batch of 10. There would be a fee attributed to each link and all I would need to do is get it live, and then receive the payment from the client.
I used the free version, but you can upgrade to the paid version to make it work well with a team that you manage.
Take a look at my explanation in this video below.
I had used Screaming Frog earlier in my career for a few things including link building, but I have since moved on from using that tool. It was handy for finding broken links on other peoples websites and then pitching those sites to replace those links. We could also find leads for link opportunities as well, such as scraping certain web pages.
I actually used the tool more for technical SEO items compared to link building. But there are link building functions that you can leverage if you only have the option to use this tool.
What are some things that you need to consider?
Link building is getting more difficult.
People aren't sharing links to content in the way that impacts search engines as they did years ago. Google's algorithm looks at the importance of web pages that are linked between HTML documents on the web. And they have Page Rank, which is passed from one page to another.
Many people are sharing links to content via social media apps and chat boxes, or their social media feeds. Often, these are private or hidden away from the search engine accessibility.
When engaging in link building to trigger an SEO impact, the link builder needs to focus on targeting web publishers that will share links to their web page content on public HTML web pages on websites.
Additionally, they need to identify and pitch those people that have the ability to make editorial changes to those web pages.
Publish content that is worth sharing.
People on the web love to share content. Link builders need to work with the website owners or editors to publish content that will incentivize other website editors to share their content with their audience.
Start by identifying the web editors that you would like to have share your web content and make a list of the content that they are known to share with their audience. You want to make sure that the content you pitch is a SLAM DUNK.
Create or curate the content so that it is irresistible for them to share.
Pitch the content to them.
Try to get some positive affirmation that they will share the content with their audience.
Before you start executing your link building campaign with any of these tools, you should watch the following videos and then publish content that will make it easier to acquire links.
I hope that this list of link building tools will help you find and secure link building opportunities for your SEO campaigns.
If there are some other tools you would like to have reviewed, mention them in the comments.
Also share your experience with the link building tools that you've used and your success rate with acquiring links while you were using them.
Thank you for reading.
Featured image: Photo by Edge2Edge Media on Unsplash
Join the newsletter
Get updates that will allow you to grow your website's income over the next 12 months.