Learn how you can earn an income online by working from home or as you travel by doing copywriting jobs on Fiverr.
Fiverr is a great platform. I would like to tell you how I managed to develop a small copywriting business simply by using Fiverr. I will tell you the strategies I used to find clients that any aspiring copywriter can use.
I no longer sell my services on Fiverr, as I now charge higher prices for my article writing services. However, I would like to share the methods I used to gain initial success when developing my Fiverr copywriting business.
If you know how to write, then you can achieve this relatively quickly. So without any further ado, let's get into how you can develop your Fiverr business and start making money from your writing now.
Tools you will need to invest in.
Sign up and register yourself on Fiverr.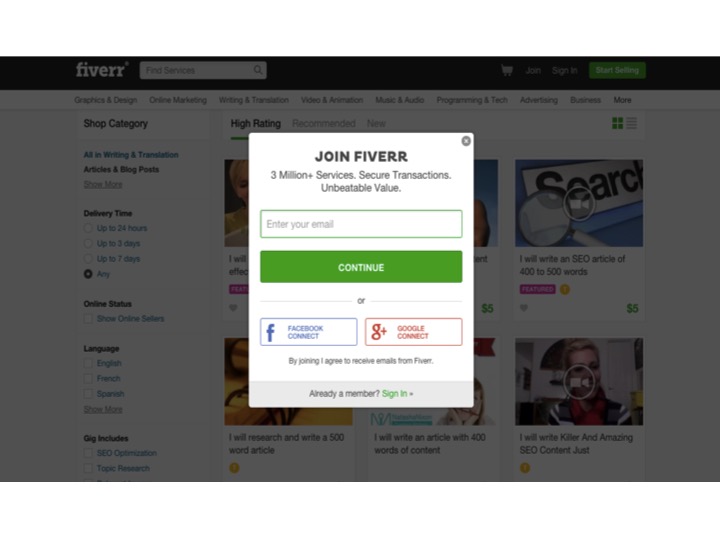 Visit Fiverr to sign up and start offering your services. You can sign-up by registering your email address or connecting your account to Facebook or Google+. If you are already a member, sign into the website.
Setup your Fiverr profile.
With a fresh new profile, you have the opportunity to create the desired brand for your freelance copywriting business. However, since your profile will be new, you will need to gain the trust of your prospective customer since there won't be any information or credentials on you and your business to reassure the customer. When setting up your profile, you need to sell the confidence of your expertise. You can achieve this by:
Adding a good, professional photo of you on your Fiverr profile.
Verify your profile via email.
Craft a short pitch that explains the benefits that you offer. For example, I am (name) and I write 500 word SEO articles that are Google Penguin Friendly.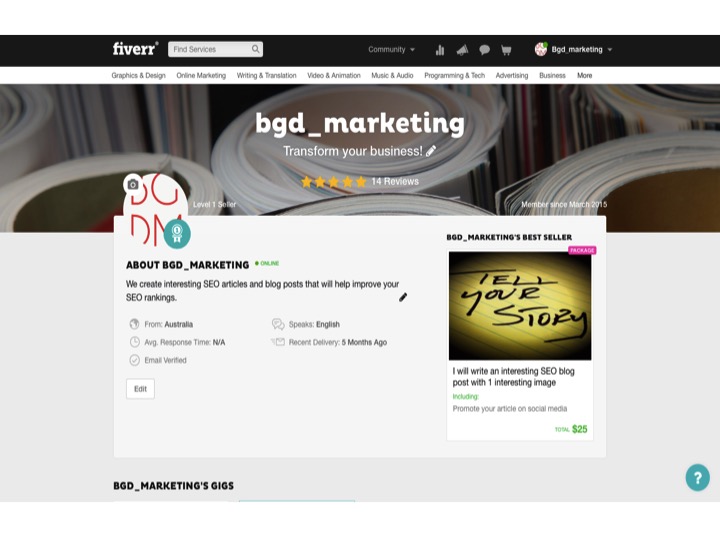 Setup your copywriting service offerings on Fiverr.
To create a service offering on Fiverr, you need to create a gig that will share your offer.
Creating a gig.
Select a good picture
Develop a strong headline
Tips with creating your gig.
People will be scrolling through the gigs on offer and you will get only a few seconds to capture the attention of your prospect and to get them consider your gig listing. To maximise the opportunity, we recommend that you do the following.
Create a compelling headline that is specifically targeted to the customer prospects that you are targeting. For example, I would use the title "I will write 1 interesting SEO article or blog post".
Select an interesting picture. I strongly recommend that you stick to photos and steer clear of animations. Photos offer a greater sense of professionalism.
Use the photo image with text that sells your service. I would use a photograph of a notepad that said "Tell your story", which seemed to work well for me.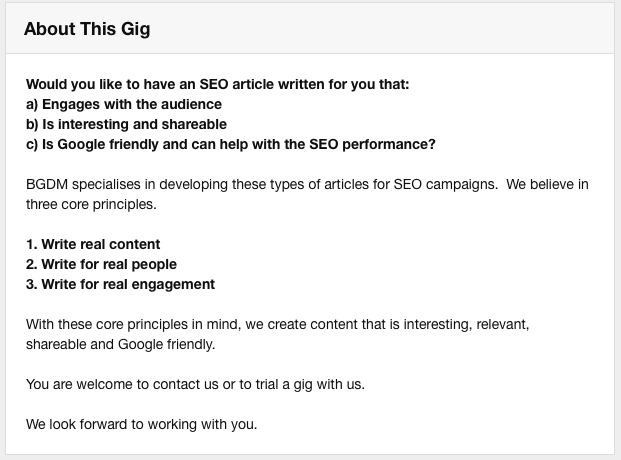 Promoting your Fiverr business.
Within the Fiverr website, they give you embed codes to publish your Fiverr profile onto other websites. They also give you links to share on your social media profiles. While this is a good initiative, I didn't achieve much success by using these. I found that you needed to create and nurture leads on Fiverr. I accomplished this in the following ways.
Getting leads from people finding your gig listing through Fiverr's organic search.
This is based on the ranking algorithm on Fiverr. I found that when I first uploaded the gig, I was able to receive inbound enquiries organically. I believe this was because they featured the new listing. After a few days, the listing dropped in visibility due to the competition. Over the course of one month, I saw the competition increase dramatically in the natural search results on Fiverr for copywriters. It is important to get your listing to appear on the first page results on Fiverr otherwise you won't get the traffic. The only way I succeeded at doing this was by creating a new listing.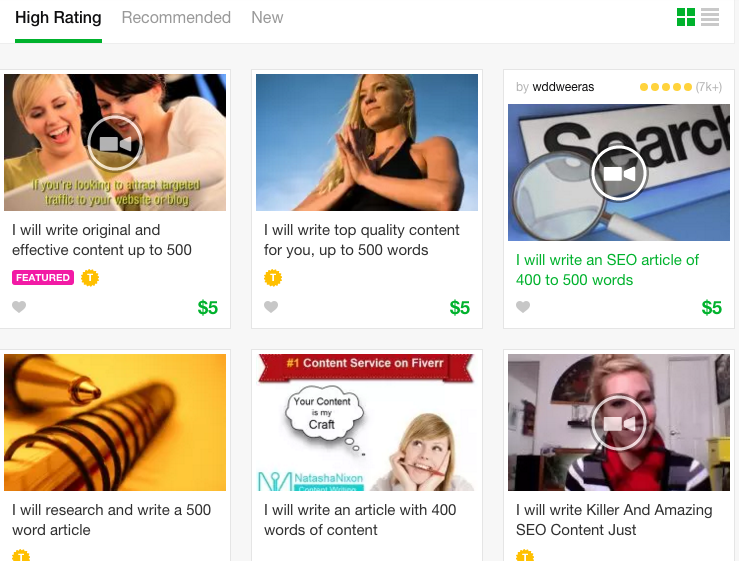 Finding businesses that are actively looking for your services.
This was the method that I used the most to get my success on Fiverr. You can go onto the tab for buyer requests where you can see what services people actually need. With this function, you are limited to ten requests per day on one account. You can filter the list by copywriting in the buyer requests section. You must have an active gig to pitch in the buyer requests section.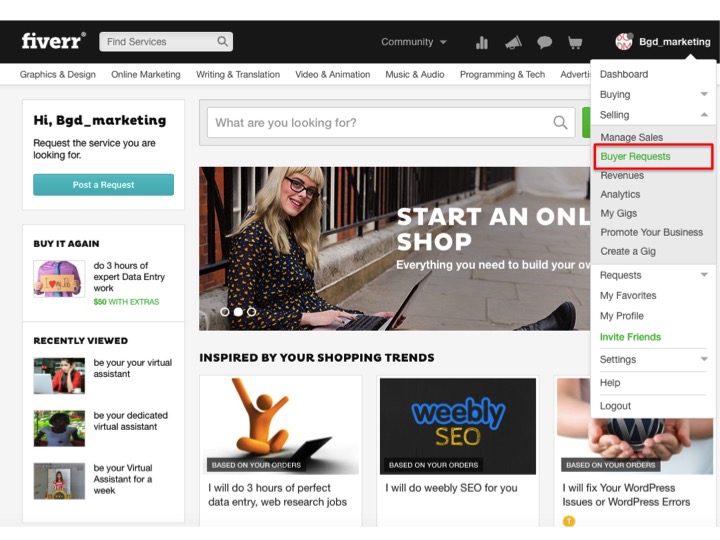 You should be able to see the filter on the right hand side of the screen. You should also be able to see that you can send 10 offers of your gig. All you need to do is scroll through the listings once a day and send up to ten gigs. I found that many of the older listings get neglected after a few days. By recontacting them, I tended to have little competition and was able to close their business with a custom offer relatively easily.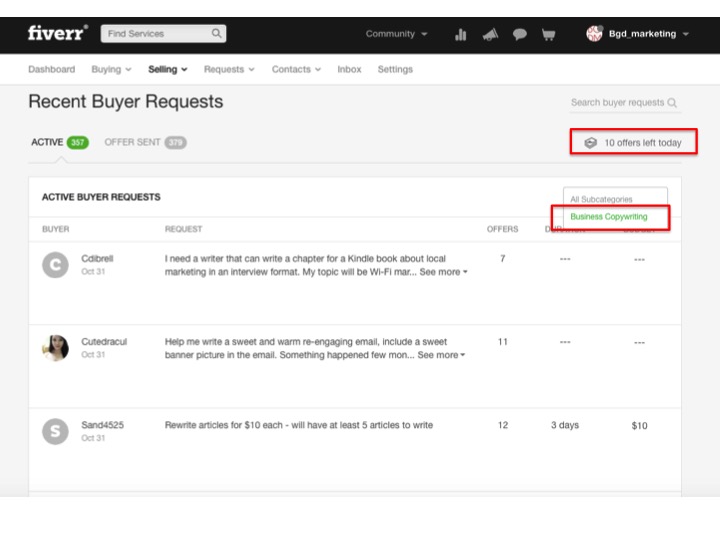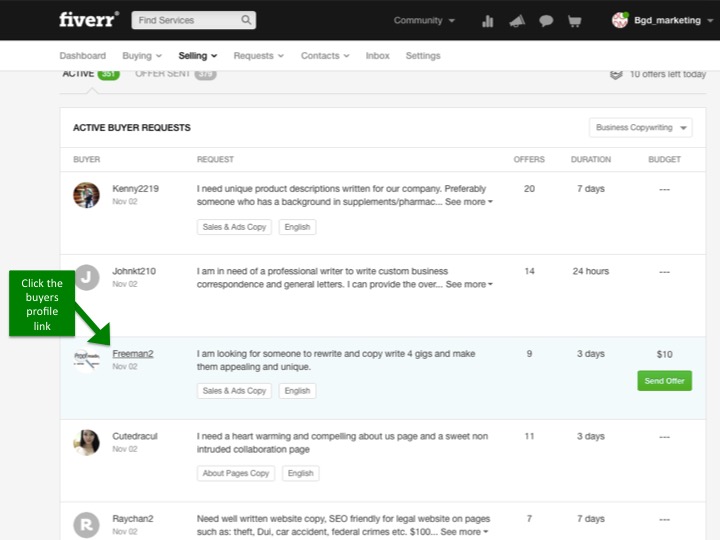 One of the frustrating things with the buyer request is the 10 offers limit that you have each day. One way I was able to get around this was by clicking on the profile links of those people that would advertise in the buyers request section and send them a direct mail.
This would only work if the person had their contact details available. I found it to be a good conversion method.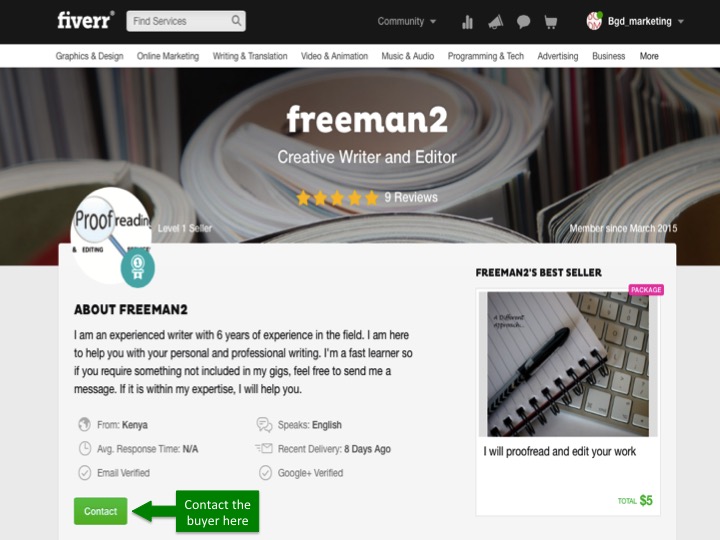 Email business development
I personally had a good success rate with this. All I did was do some data collection to find agencies (in this case, SEO agencies) that required copywriting services. I knew that by targeting SEO agencies, they would need to order articles in bulk (e.g. 10 articles or more per month). I also knew that it would be easier to upsell or cross-sell to them, hence earning me more revenue. I would start by finding a list of 50 locally based agencies. I would find their general enquiry email address or note that they had a web form. I would then send them the following email.
Subject line: Expression of interest to become your copywriter. Email content. Hi, I'm (name), I would like to express an interest in becoming a copywriter to help with your SEO copywriting projects. I have a gig on Fiverr.com via the link below, where you can see my reviews and working templates. (Insert your gig link here) I look forward to hearing from you soon. Kind regards, (Name) Contact phone number Contact email address
That was it. A simple introduction email that would create the opportunity for people to find and purchase my Fiverr gig.
Social media Twitter promotion
I had some success on Twitter when searching for prospective Fiverr clients. I would achieve this in the following ways.
I would publish tweets that would have a link to my Fiverr gig. I would aim to get people to favourite and retweet the link in order to get more inbound enquiries. This did create the opportunity for enquiries, but it was a slow process. The tweet message needed to be compelling and use the correct hashtags to increase your tweet's visibility. You can see examples of the tweets below.
Get an article written for your blog or website for $5 https://t.co/X7gI2NVS5Q #copywriting #seo #contentmarketing pic.twitter.com/o310CF1EeH

— David (@BGD_Marketing) April 9, 2015
I would look for people on Twitter that are searching for copywriting talent. I would achieve this by typing into the Twitter search box "looking for copywriters" or "copywriting" or "freelance copywriters". You can work with different variations that will allow you to see different results. Once you have put this in, you should get results that show you copywriting jobs and contacts to pitch your Fiverr copywriting gig to. You can then pitch your gig via Twitter or try to contact them via email.
Looking for a content writer, who can work in CMS, with equal exposure in digital marketing (SEO, SEM, Analytics, etc.)

— Angelica (@angelicajacob) April 6, 2015
looking for a Copywriter/Community Manager who's also a massive football fan! 1 month rolling contract with great ce…http://t.co/b1gNyq4I4J — Rebecca (Bex) Dean (@xeB_Bex) March 4, 2015
How to increase your Fiverr revenue.
Selling single gigs on Fiverr is encouraging, but you need to sell a lot if you want to start generating a lifestyle income for yourself. You need to accomplish this by increasing the volume that you sell by selling in bulk and by getting repeat purchases. The most expensive acquisition will be that of getting the customer the first time.
The repeat purchase is where you will start to see the fruits of your labour rewarded. Treat your initial sale as a promotional sale and then aim to upsell your services with bulk sales that repeat at a regular frequency. This should see your Fiverr gig's sales income grow exponentially.
Don't be afraid to upsell or cross-sell.
To start growing your income on Fiverr, you need to upsell or cross-sell your services. You must give your customers options to consider this. In terms of copywriting, some of the easier options include:
Upselling shorter timeframes
Upselling more articles or copywriting projects
Upselling to include images or videos in your content.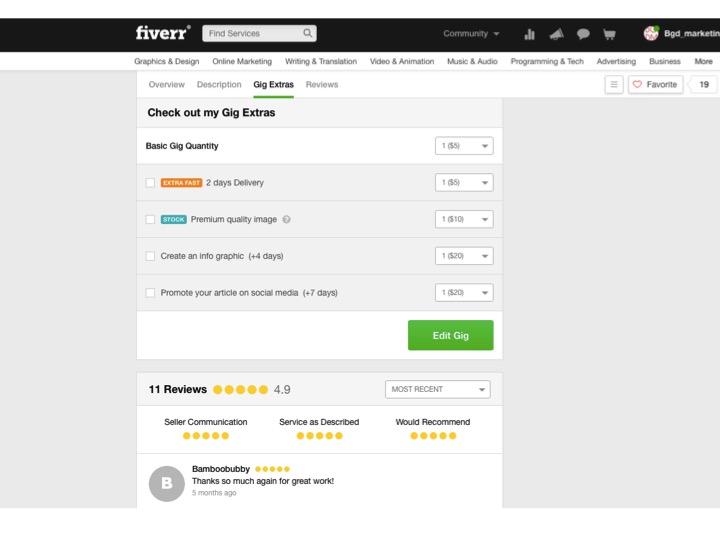 Offer guarantees
When pitching to new clients, there will always be some form of risk for them. To minimise that risk, you need to offer guarantees that will boost their trust in you. Accomplish this by fulfilling the promise in what you said you will deliver. For example, deliver a good quality 500 word article.
Managing disputes
One of the experiences that you should prepare to manage is when disputes arise from the work that has been delivered. If a dispute has been raised, it puts you in a position where the buyer can refuse to pay for your services. My recommendation is to try to resolve the issues by clearly defining what the client feels hasn't been delivered. If the problem is from the client and not a result of your work, it is better to write off the costs and to move forward with the next project.
Set targets.
You need to set a clear goal for what you want to achieve from Fiverr. My original goal was to generate leads on Fiverr through a cheap product offering (five dollar articles) and then to upsell or cross-sell other product or service offerings via a custom offer. The specific goal I had was to hit a revenue target.
My long-term goal was to achieve a cashflow of $2000 per month. If I wanted to achieve that goal through Fiverr.com, I would need to produce 400 articles a month at $5 each. This would also mean that I would need to close 400 sales and have a pipeline of prospects of around 1000.
These targets were clear for me to use in order to work towards my goal. If you want to make your first $500, you will need to make 100 Fiverr sales.
To make it easier to achieve, I would provide custom offer services that would increase my revenue. This way, I could achieve more sales revenue towards my goal.
Things to beware of.
Your money is held in escrow. If you have a dispute with a customer, there is a risk that you may not receive your money.
When you withdraw your money, Fiverr will take 20%. This means for every $5 gig, you will receive $4.
There will be Paypal fees that you will incur from your bank when you withdraw the funds to your bank account.
Some takeaways to give you a more competitive edge with your Fiverr listings.
Make sure your profile and gig listings come across professional.
People want to hire experts. If you look like amateur, then it is unlikely you will receive enquiries. Your profile and gigs must be able to sell themselves and give the prospective customer the confidence to purchase your gigs.
Guard your reputation with your life!
The ongoing success with your Fiverr business will be impacted by the positive feedback and testimonials that you receive. Aim to deliver high-quality work that will exceed your customer's expectations.
You need to aim to maintain a positive feedback score as close to 100% as possible. Positive testimonials are essential, so give people a reason to say something nice about you. If things don't work out on a project, write it off and move onto the next project. It is better to lose $5 on one project than to lose the equivalent of $5000 over the long-term.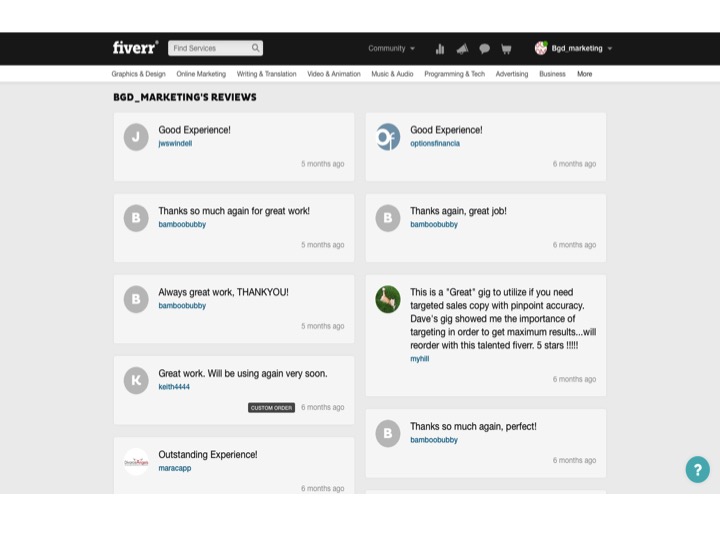 Maintain a visible online presence.
Always try to maintain a strong presence by communicating with your customers. Keep the score high to boost their confidence and dialogue with you.

Always meet your deadlines!
The quickest way to prevent the success of your business is by failing to meet the deadlines that you set for delivery. Set a timeframe for which you know you will deliver the project. Remember, that your business will grow exponentially over time if you have followed the guideline carefully and implemented the necessary steps to develop your copywriting business. There are also other good resources to use as a reference for developing your Fiverr.com business. I have listed these below.
Handy resources to help you build your Fiverr copywriting business.
How to find clients, build a portfolio and start charging big bucks on Fiverr.
A guide by Liudas Butkus on Matt Woodward's blog, detailing how to do business development on Fiverr.com.
Fiverr Power Selling Guidebooks on Amazon (To sell over $100,000 a year).
Success stories.
You can join many others who have shared in the success from Fiverr. You can read a few of them below.
Fiverr job success – Business Insider
Redd Horrocks was able to develop her Fiverr business which now allowed her to earn in excess of $9000 per month.
The secret to making money on Fiverr – US Money News
Kimberly Palmer covers the story of Micha Kaufman and Morissa Schwartz and their success on Fiverr.
Guys making money part time from Fiverr.
Damian Pros details how to people make money from Fiverr.com. This guide should allow you to start making an initial income from Fiverr.com.
The steps I provided are the exact steps I used to start my Fiverr business and allowed me to start earning an income as a copywriter based in Australia. I have now stopped my Fiverr business, as I was able to generate a higher income from copywriting off Fiverr. Had a chosen to continue with Fiverr, I would have expected to earn a monthly income between $500-1000 per month. I'm confident that if you want to earn a lifestyle income from Fiverr, you can achieve it with the steps provided above. Best of luck with your Fiverr copywriting venture.
Recommended writing resources
Story: Substance, Structure, Style and the Principles of Screenwriting
The Anatomy of Story: 22 Steps to Becoming a Master Storyteller
Writing and research tool – SEO surfer
Join the newsletter
Get updates that will allow you to grow your website's income over the next 12 months.