Disclosure:This post contains affiliate links.
How sites like Upworthy get up to 36x more traffic using this 1 simple headline writing trick.
I want to talk about headlines. When it comes to creating web copy for advertisements, blog posts or other forms of web content, the headline that gets used accounts for up to 80% of the results. Whether we are trying to develop content that will serve as link bait, generate us more web traffic or becomes viral; we need to make sure the headline attracts people to read and engage with the content.
Many online marketers (especially SEOs) preach about developing high-quality content. However, most don't even dedicate their efforts into crafting an amazing headline. THIS IS THE MOST MAGNETIC PIECE OF YOUR CONTENT! The most amazing piece of content is worthless if nobody reads it.
Whatever content you develop for the web needs to attract an audience. Whether it is an article, whitepaper, slideshow, ad copy or video, the headline is so fundamental to its success. Ignoring it throws away the money and efforts that you have invested in the content.
I am giving you the approach the approach the top experts use to write compelling headlines.
Don't be satisfied with creating 1 headline.
Your headline must be able to successfully frame your content to give it the best chance to earn more readers, likes, shares and engagement. A great headline needs to create a 'Curiosity Gap'. It will be the difference between your content getting seen by 10 people or 10,000 people. Content marketing machine Upworthy recommend writing 25 headlines for each piece of content. By writing 25 headlines, you will be forced to think outside of the box and create a compelling headline that hits the nail right on the head.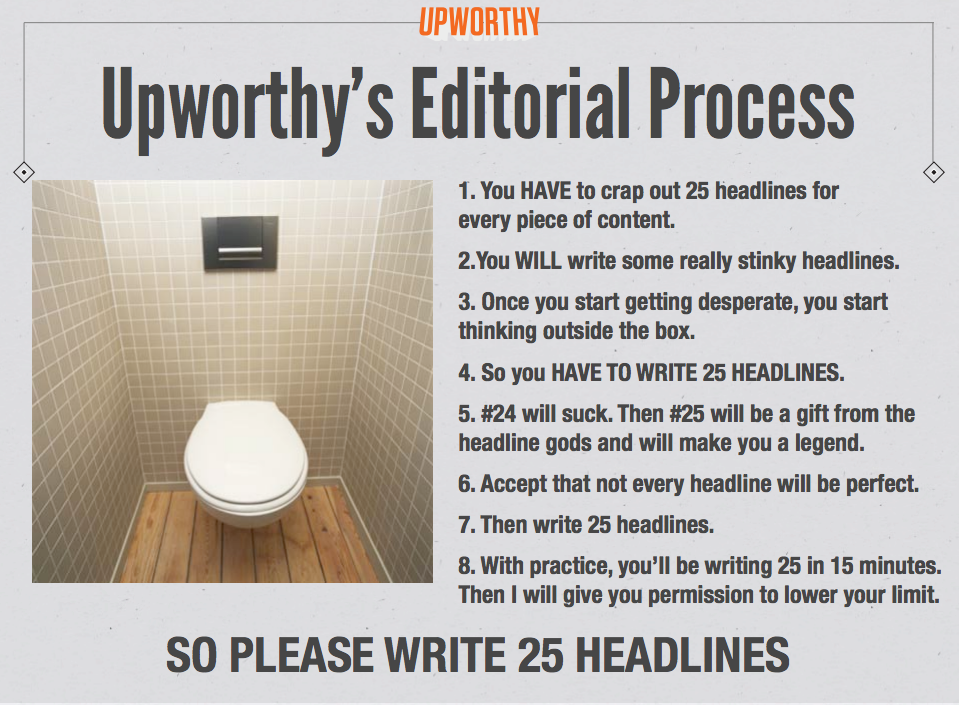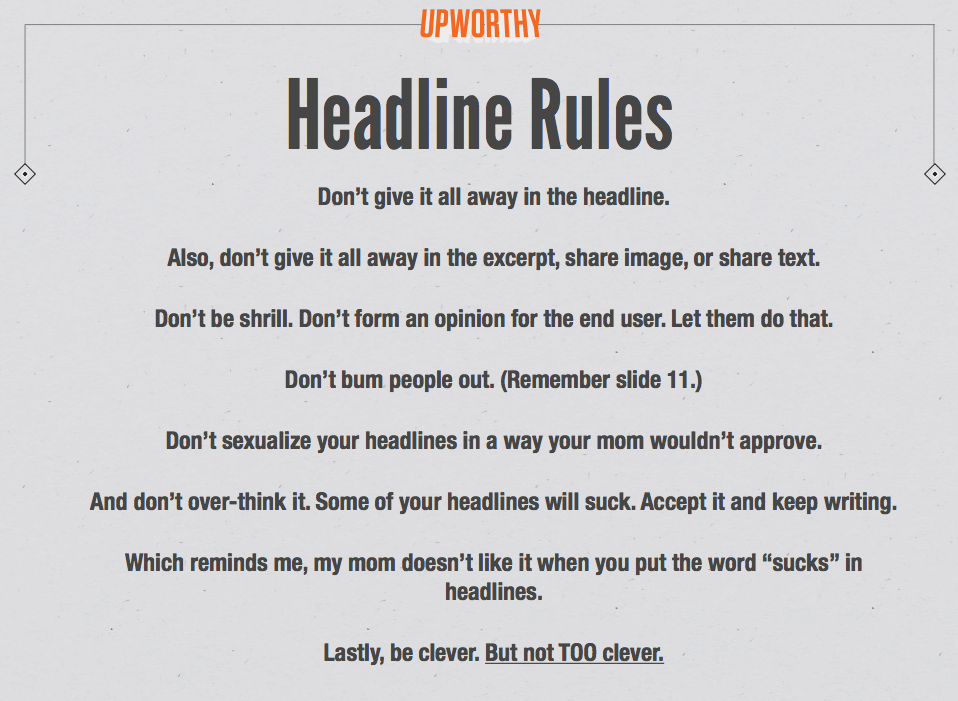 Resource: How to make that one thing go viral (Just Kidding!)
They also provided their rules for writing successful headlines, which you can see below.
To successfully frame your content successfully, you must create a viral-worthy headline. You can use the following headline formula to create a captivating headline.
Use a Number or Trigger word + Adjective + Keyword + Promise
Regardless of the topic or keyword that you are trying to write about, you can find a creative way to make your content more appealing. Whether your business is in tax and accounting, self-storage or crane haulage, you can find a way to make your content more attractive for your relevant audiences.
For example.
9 delicious recipes for making mouth-watering chicken at your next BBQ.

6 bookkeeping hacks that will save you $100 on your tax return.

8 trustworthy signals you should know to look for when hiring an accountant! 
Resource: 5 easy tricks to help you write catchy headlines
Below is a list of powerful words that you can use.
Ultimate
Tricks
Effortless
Essential
Simple
Smart
Crazy
Adorable
Tips
Fast
Mindblowing
Refreshing
Fun
Free
Exclusive
Useful
Proven
Instant
Guaranteed
Interesting
Powerful
Valuable
Unique
Wonderful
Explosive
Quick
Brilliant
Unreal
Alarming
Killer
Toxic
Magnetic
Want headline ideas? Get Words that Sell by Richard Bayan on Amazon. 
Pitch an offer they cannot refuse by adding a promise or guarantee to your headline.
Promise that you can deliver something valuable to your audience. Adding a promise to your headline allows your content to be welcomed by the reader.
Using the right promise will melt away any resistance they have for not clicking on your content's link. By making an audacious promise that you can fulfil, you take away any risk from the reader.
Some powerful promises you can make include:
A value on their return on investment (ROI)
Money back guarantee.
Giving valuable information away for free.
Showing them a way to save (E.g. money or time)
Here are some examples.
3 exercises that shrink your thighs in 6 minutes a day.

4 words that seduce men into commitment.

5 daily vegetables that make you look 10 years younger.

Double your Adwords revenue with 3 easy steps or your money back.

4 free ways to get your next beach holiday.

5 minimalisation tips for the home that can save $100 a year on self-storage fees.
IMPORTANT!
Never ever use headlines to deceive your readers. You must always make sure that the content that you deliver fulfils or exceeds the promise from your headline. There are several content pieces that have click-bait titles, but the content delivers poor value and experience to the reader. Make sure that whatever the promise is, that you deliver on your promise so your content can earn engagement, shares and referrals.
Resource: 30+ Headline formulas for tweets, posts, articles and emails.
Your headline is the most important factor for attracting people to engage with your content. Arouse their curiosity and stimulate their emotions so you can grab their full attention and have them engage with your content.
Join the newsletter
Get updates that will allow you to grow your website's income over the next 12 months.