If you want your site to rank successfully across several keywords in your industry, you have to implement a content strategy that will also generate links to your website.
A link bait post uses elements from the Skyscraper technique, so that your site will have an authoritative piece of content that will attract links that will help the site rank better for its target keywords.
The aim of the link bait post is to develop a leading piece of content for an audience that has a high-probability of linking to the content from the web platforms that they have access to.
How have we seen the link bait post work in other SEO campaigns?
The link bait (Skyscraper) technique is very effective.
It allows the site to capture a wide range of links from different web page sources.
It is easier to pitch and acquire links from aged or resource pages, which can pass their link equity onto the web page.
As post gains authority, internal links can be used to boost the rankings of certain keyword phrases.
Additionally, publishing several link bait posts will allow the site to develop a strong amount of authority, which will allow the site to be perceived as an authority and will be able to rank for almost any keyword.
What's required to get the link bait post to be a success?
We need to research, identify, and validate the target market of website editors and managers that are known to link out to the type of content that we intend to publish.
We need to prospect and validate at least 200 prospects so that we know there is a good chance that they will link to the content.
Once we validate the content, we analyze the content to see what is good and what other things can be improved.
This could be:
Graphics
Layout
Images
Videos
Tables
Information
Referencing
Quotes
Missing insights
And more
We will then conduct the research to create and publish the content. This process can take 30-60h, depending on the piece that we will publish.
How long is the word length?
We usually aim for a minimum of 1000 words, but we will make sure the content ticks all of the boxes for the reader.
We will then pitch the content to be shared online.
We will pitch 200 prospects to generate as many links as possible. We will guarantee a minimum of 10 links to the post.
How many links should you expect to acquire from each post?
We aim to secure a minimum of 10 links for every link bait post that is published. These are 10 links from 10 different referring domains.
What kind of ranking improvements can you expect?
You will definitely see an improvement in keyword visibility and rankings across the long-tail keywords from the published post, as well as an improvement in the main target keywords for the site.
Depending on the niche that you are in, you will start to see results on page 1 with as few as 4 posts.
What are some examples of the work that we've provided?
Pure House Cleaning Link Bait Post
Green cleaning essentials that all moms and dads should be doing. 
Total links acquired – 11
How to keep your home clean with dogs. 
Total links acquired – 10
Organic Search Result – Seattle Cleaners – 14/7/2019
Position 6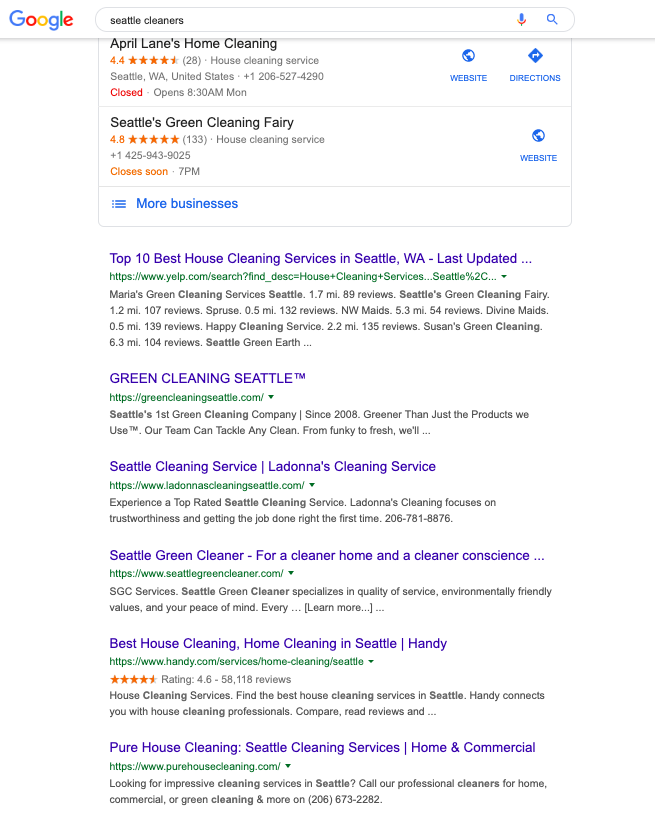 Ranking movements to date (from March 2019)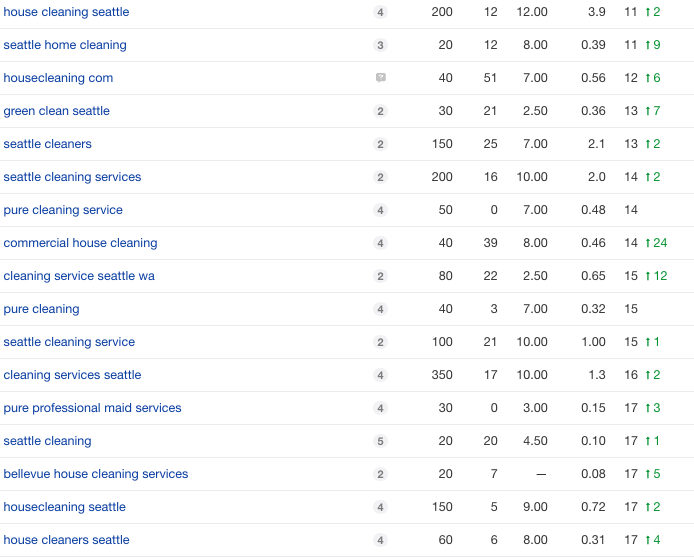 How many of these will you need to see an impact?
This depends on the competitiveness in your industry. We typically find 60-150 links from referring domains should create enough of an impact to generate the ranking movements to the first page of Google.
This means you will need to invest in a minimum of 6 link bait posts.
We suggest that you have a budget of $18,000-45,000 to implement this activity. 
We also suggest that your monthly revenue from the SEO channel is either currently or has the potential to grow beyond $10,000 a month in order to justify this investment.