HARO (Help a reporter out) is a website that journalists use to find contributors for their stories. SEOs have been using HARO for link building, however it can offer more than just a link placement.
It is a great way to increase your business's media exposure. Imagine the impact on your business if you were able to receive a publication in Forbes or Entrepreneur. For the small business owner, these opportunities seem unlikely. However, by using services like HARO, it breaks down the barrier that was previously reserved for corporate businesses.
In SEO, you want to generate links from authoritative websites as a part of your portfolio. Links from media sites tend to have strong authoritative metrics and are recognised as a credible information source.
Gaining link citations and brand mentions in these web publications may positively impact the SEO performance of your site for the better. Below is a step-by-step guide on how can you use HARO to gain natural links.
Sign up to HARO.
You will need to sign up to the HARO service. You can register by visiting their website http://www.helpareporterout.com
You will need to set the notifications for your business.
When you have registered, you will be taken to a section where you can receive notifications from journalists that have different information needs. There are areas such as general business, travel and lifestyle and fitness. You can see a screenshot of what you can expect below.

Once you have selected the notifications, expect to receive email requests from journalists.
Now that you have selected your notifications, you will start receiving information requests from journalists that will invite you to pitch to feature in their story. The good thing is HARO removes the website prospecting element when you are searching for relevant websites to pitch to. However, the notifications only make you aware of the opportunity. The journalists will usually have a short deadline of 24-72 hours, so they need to receive the pitch submission replies as quickly as possible.
Pitch to the journalist successfully to earn a feature.
The chances of your website or business being featured in the publication hangs on the pitch contribution that you submit. The thing to bear in mind is that these journalists, bloggers and content editors want to build an interesting story for their audience. If you pitch with the expectation to get a link as your first priority, then it is likely that your pitch will fall flat. Instead, look at the question and details that the journalist is looking for and give them a story with an interesting angle. You may help to educate their audience, share an experience, share some learnings or even make a prediction.
Below is an example of one of the pitches that I sent that was successful.
Hi, I'm David James. I'm the founder of my agency Business Growth Digital Marketing.
We use cold calling all of the time to generate new leads and clients. The best tips we can offer from our experience includes:
Qualifying the prospective list – We get names, industry personnel, the right decision maker and target the niche to create the opportunity for conversions.
Develop a strong and targeted pitch for lead generation.
We get them on the phone with experts. – We demonstrate value, which leads to a more qualified sale.
Follow-up – We follow up with strong credibility pieces via emails, blog posts, videos and phone calls with experts.
We nurture the sale as opposed for going for the hard sell.
I hope this helps.
Live article: http://fitsmallbusiness.com/cold-calling-tips/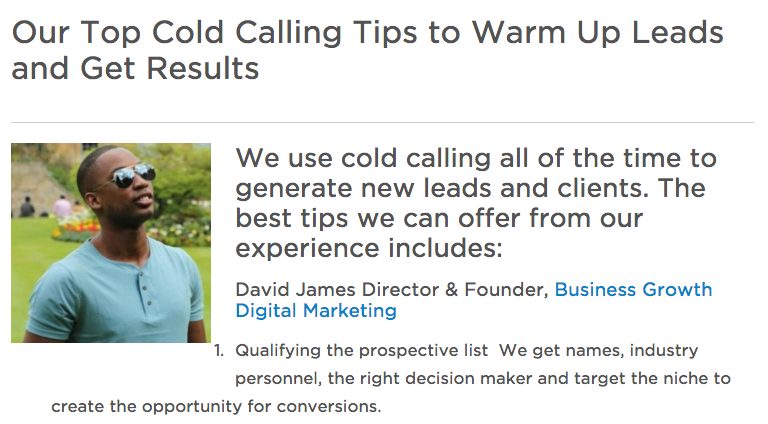 The domain authority on this site is 52.
Invite the journalist to get more information from you if required.
Remember that the journalist wants to build a story for their audience. The more information you can contribute towards them building that story, the easier it will be for them to develop and leverage your information.
What should you expect from your contribution?
So far, I've noticed that I've generated a 2% success rate with pitching my own business. I'm also helping others to secure featured opportunities across different industries and I'm finding that the results will vary. One of the big factors with HARO is that it is US-centric.
When journalists are seeking contributions that aren't location-specific, it can work quite well. But if your business is located outside of the USA and they require US-specific contributions, then it will substantially lower the chances of your pitch being successful.
Successful pitches usually receive a reply within a week. I've noticed that you either get shortlisted and you need to provide more information or they will notify you if your pitch has been successful.
If it has been successful, they will usually forward you the link to the publication and they will also ask you to promote it on social media.
If your pitch is unsuccessful, there is usually no reply.
What is an example of a successfully acquired link?
The best link that I have received from using this technique is the one on Stack Overflow, which is a developers website. The domain authority of the website is 91 and their blog has a large audience. When the blog was published, they promoted it on their social media account and I received new followers as well as retweets on the article.
Things to bear in mind.
Google has mentioned in the past their dismay at using HARO to generate natural links. This is because people have been manipulating Google's algorithm through link manipulation. Below is a good resource and case study where another SEO found his client got caught up in an unnatural links penalty.
Resource: https://globerunner.com/google-targets-help-reporter-prweb-links-bad-links/
One of the things he notes is that the links that were obtained through quotes and features were legitimate. The links passed traffic onto the website and actually benefited the business. They did notice upon further inspection that the particular sites that had been flagged were engaging in 'fishy' SEO activities.
You Mon Tsang who is the Chief Marketing and Product Officer, Vocus (parent company to Help A Reporter Out and PRWeb) has said the following.
"Help A Reporter Out (HARO) is a service that matches qualified journalists with potential sources. There is no quid pro quo, no link promised, and no control or tracking of the story. We simply make a match… Also, we are very strict with requests we publish for HARO and vet every single one."
Takeaways
Using the HARO service for improving your business's publicity should be the main priority. The benefit of potentially gaining a link as a result will help to build your website's authority. Essentially, it is PR and publicity that you are building for your business. And good PR and publicity will naturally yield more links in the future.
Watch the HARO link building video.
You can learn more about link building with HARO by watching the video below.
Do you have any experience using HARO? Share your story with us below.
Click here if you would like to get 40 pitching angles that can help you secure links.
Join the newsletter
Get updates that will allow you to grow your website's income over the next 12 months.