Disclaimer: This post contains affiliate links.
Create viral videos for YouTube with advanced video editing software Adobe Premier Pro.
I started my business YouTube channel late. I launched it in 2015, when it should have actually been launched 10 years earlier. This is because it is becoming more difficult to grow YouTube channels because it isn't as easy to get exposure on the platform as it was 5 years ago. That being said, I still see alot of opportunity on YouTube, especially as a way to build your audience database.
I usually recommend my clients to develop a presence on YouTube and to start building their audience.
There are several YouTubers or even businesses that succeed primarily because they have a loyal audience that is prepared to support their business. The larger the audience, the more opportunity there is to grow and succeed.
My wife runs her YouTube channel Olivia Rose and grew her audience to over 39,000 people. There are some people that have millions of subscribers on their YouTube channel as well.
Ideally, you want to reach 10,000 in your niche so that you will be able to create a pipeline of leads and brand advocates for your business.
In this article, I am going to share insights into what I've learned while developing my business's YouTube channel and getting my first 100 subscribers.
You need to publish video content that your audience will find valuable.
You need to give your audience the content that they desire. You need to understand what your audience desires the most. With my wife's afro hair channel 'Olivia Rose', she understands that her audience wants to learn how to grow long, healthy natural afro hair. She doesn't stray away from the topic. Every video that's uploaded must share this value with the audience.
You need to publish regularly.
I came across very good advice from YouTube Celebrity Casey Neistat, who said that Vlogger Roman Atwood gave him 3 words of advice. "Always be uploading."
Whether you look at YouTubers like Pewdiepie, Comedyshortsgamer (Deji) or Zoella, you will find that they are always uploading new content for their audience. And as a result, their audience continues to grow.
To really dominate on YouTube, you have to upload video content everyday. You have to go all in and commit to developing the channel. I'm not going to beat around the bush. It takes alot of work.
I managed to get to a point where I was uploading video content up to 5 times a week. But I was struggling to publish content that was seen to be valuable regularly.
The other thing is it is easy to lose motivation in the beginning. I think for the first 20 videos that I'd uploaded, none of them even surpassed 100 views and I barely got 20 subscribers. The thing is you have to be patient and continue developing the channel.
People respond to high-quality content.
People expect to watch content that is professional. This means recording videos in HD, having high-quality audio and professional editing. It does take alot of work and investment to produce high-quality content. There is the pre-production with scripts, the video plan, filming, props and post-production. But the viewers respond better to the content that is produced.
Promoting the channel.
Once I had enough valuable content on my channel, I was able to promote it in several discussion threads and blog posts. I was able to embed the content and the video playlist. This helped my videos to get discovered and earn more video views.
Getting the first 100 subscribers was difficult. But I found that implementing what I've suggested above allowed me to reach the 100 subscriber mark. It took me about 5 months to get 100 subscribers. Since then, it has taken about 2 months to build another 20, although I haven't been uploading as frequently.
You also get attrition, where people unsubscribe or their accounts get closed. It is something that you will need to factor into your YouTube growth strategy.
Here's a screenshot of my YouTube channel's growth statistics since 2015.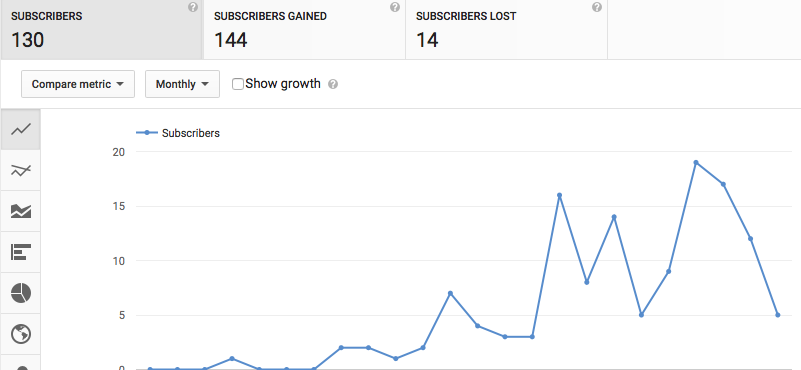 Do you have a YouTube channel? How have you found its growth? Let us know in the comments section below.
Would you like to create interesting viral videos? Click here to invest in advanced video editing software Adobe Premier Pro.
Join the newsletter
Get updates that will allow you to grow your website's income over the next 12 months.