Disclaimer: This post contains affiliate links.
YouTube is a platform that has the potential to provide exposure quickly. Similar to running television ads that can initiate brand recall and trigger brand awareness and people to seek more information. We decided to run a campaign using my wife's Olivia Rose channel to see what kind of exposure and benefits we could receive from the activity.
Aim.
To increase the awareness of the Olivia Rose channel with female African Americans and Afro/Caribbean French speakers.
To increase video views and subscribers.
Campaign duration.
Campaign start: 23rd April 2016
Campaign finish: 25th April 2016
What did we do?
We set up two campaigns with the intention of increasing the awareness of the Olivia Rose channel among women that were looking for afro hair tutorials. We setup the campaign with the following customisations.
Audience targeting.
YouTube is great for targeting specific groups. You can specify your campaign targeting by:
Demographic
Interest (by keyword)
Video theme
Video channels
Video URLs
Geography
For the US campaign, we only targeted female African American English speakers in the United States.
We targeted the age range from 13 through to 60.
For the French speakers campaign, we setup the following.
Demographic
Interest (by keyword)
Video theme
Video channels
Video URLs
Geography
The following videos were used to promote the channel.
US campaign
French campaign
The ads would appear as an in-display ad in the following formats.
Results
US Campaign
Impressions: 66,662
Views (Clicks on the video): 615
View rate: 0.94%
Average Cost per view (CPV): $0.04
Total cost: $24.21
Earned views: 76 (12.36%)
Earned subscribers: 3
Earned likes: 8
Cost per subscriber: $8.07
Cost per like: $3.03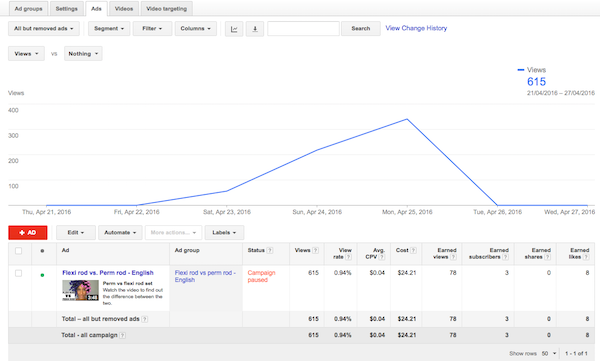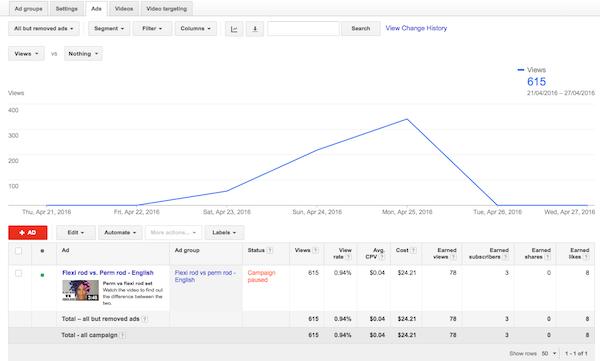 French speakers campaign.
Impressions: 41,153
Views (Clicks on the video): 447
View rate: 1.09%
Average Cost per view (CPV): $0.02
Total cost: $10.47
Earned views: 42 (9.40%)
Earned subscribers: 2
Earned likes: 0
Cost per subscriber: $5.24
Cost per like: $0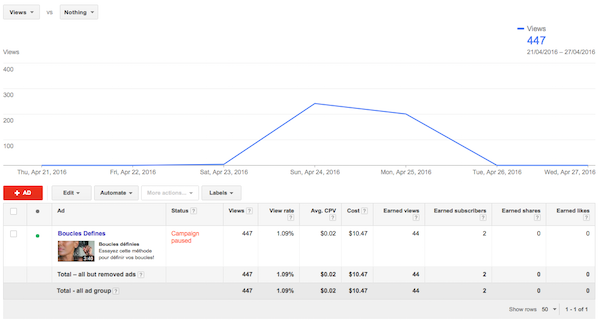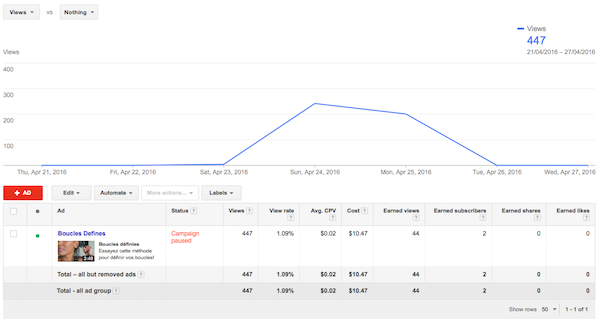 Learnings.
The campaign was successful in the sense that the videos gained exposure relatively cheaply. The cost per channel subscriber was also relatively low, however the current monetisation plan wouldn't make the channel profitable. The lead acquisition cost is low. By selling a high-end product at $50 or more, the advertising should be able to convert sales and make a nice profit.
If we applied the same marketing model to another product or service that sold a high-ticket item worth a few hundred or thousand dollars, the campaign would be much more interesting. For example, if we were selling a product valued at $1000 that would be sold in the USA, we could estimate 30 qualified leads for every $1000 spent. Or 300 for every $10,000 spent. Since the market is niche, we might be able to convert 10% into sales. (This is hypothetical and hasn't been tested. But you can see how it could work.)
Could YouTube marketing work for your business?
It depends on whether your market is on YouTube and if they can be isolated well. It is definitely a marketing channel that can gain your business exposure and brand awareness. Ultimately, you want the people viewing your ad to become customers and advocates of your brand. As long as the campaign can get them onto your database (subscription), then it is worth considering this activity as a part of your business's marketing mix.
Would you like to create interesting viral videos? Click here to invest in advanced video editing software Adobe Premier Pro.
Join the newsletter
Get updates that will allow you to grow your website's income over the next 12 months.