Disclaimer: This post contains affiliate links for which I will earn a commission if you click through and purchase via the links. This will be at no cost to you. The opinions and experiences shared are my own.
Before I begin, I want to say that this is my personal review of my experience with Siteground and I will update this article based on any other experiences that I will have with the web hosting platform.
TL,DR: Siteground is a good option to scale growing websites. Click here to compare options on their website.
If you plan to develop a portfolio of websites using the WordPress CMS, I would recommend that you host your sites with Siteground.
I made the switch to Siteground from Hostgator in 2019 and I have been with them for a just over a year so far.
The experience that I've had with them has been positive. They aren't the cheapest solution if you are solely looking for a pure hosting solution. However, with their support included for troubleshooting, it is a cost-effective solution.
What do I use Siteground for?
I use Siteground to host and manage my portfolio of affiliate and business sites.
I also use it to host some local business websites for others as well.
How is Siteground's uptime?
There's only been one time when one of my sites wasn't displaying correctly due to someone in the technical team not configuring the server correctly. This took around 1h to resolve with their technical team. It was annoying at the time, but they managed to get it resolved.
They typically alert customers to let them know of any changes or maintenance work that may affect the site's performance.
In my experience so far, uptime has been 99%.
How fast is Siteground?
The time to connect to the server can be around 600-700ms through an SSL connection. It's OK, but it isn't great.
It is good enough to do the job though.
Ideally, you want an initial connection that is less than 500ms, but ideally around 200ms.
What are some of the benefits with using Siteground?
It's easy to transfer your website from another web hosting provider.
You can use Siteground's migration plugin and WordPress Migrator tool to move your site from your old hosting to your new hosting.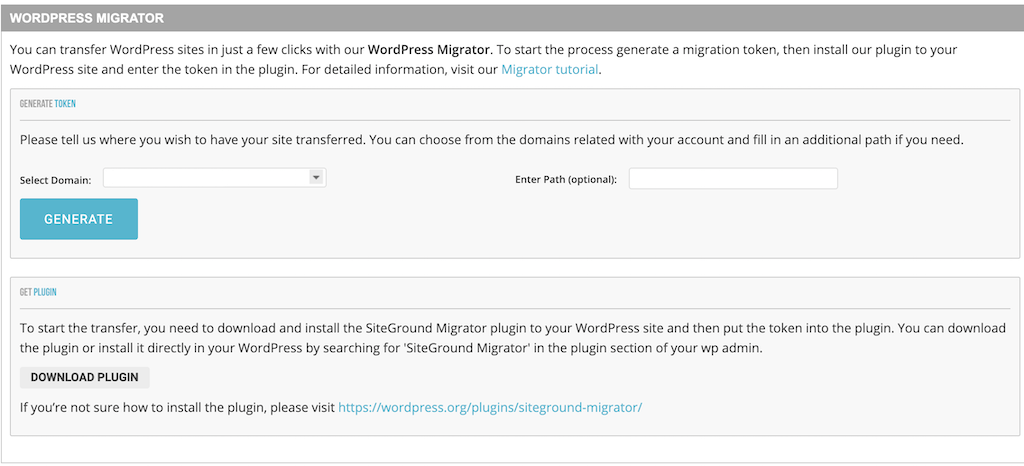 It takes a few minutes, but it is simple and will have your site live exactly as the files display on the old hosting site.
The only thing you will need to do after doing the migration is change the Domain Name Servers to point at the new nameservers where your site is being hosted on Siteground.
Siteground grants you a free SSL certificate.
This is a huge plus because I've paid $89 to get an SSL certificate for my site. The fact that you can get a basic one for free is a huge plus. There is a limitation. You can only host it at the root domain level, which means you can't have the www in your domain.
You get to use the Cloudfare CDN network.
This is another plus that you would have to pay for and configure separately. You still need to optimise your site well to get the full benefits
Siteground's customer service is included in the fee.
They have a 24/7 team that can help you with issues with your website. Support services can easily cost you $100-300 if you don't know what you are doing. (I've paid for this when my site got hacked).
They will try to fix your site rather than take it offline.
I have an OVH account and when my site got hacked, the site got taken offline. They would only put it back online once I hired a developer to fix it.
Siteground's team can help with resolving those issues, without having alot of downtime and paying excess fees.
How good is Siteground for SEO?
In my opinion, Siteground is a good web hosting platform if you want to get good SEO visibility. It isn't the absolute best on the market. However, the cost and quality of the service is good enough to scale.
How much is Siteground?
They offer different packages with starting rates that then increase into a standard monthly rate.
I'd personally suggest starting with at least the GrowBig plan so that you have the ability to host and scale multiple websites on your own account.
| | | | |
| --- | --- | --- | --- |
| Plan | Starting Special Price | Ongoing Price (After the special price period expires) | Traffic allowance |
| Startup | $6.99/month | $19.99/month | 10000/month |
| GrowBig | $9.99/month | $29.99/month | 25000/month |
| GrowGeek | $14.99/mo | $49.99/month | 100000/month |
Siteground web hosting prices
Are there any limitations that you should consider with Siteground?
Yes. The main two factors are traffic and the file sizes being hosted on your account. So you need to consider your website goals and needs.
I am on the GrowBig plan, which allows for up to 25,000 visitors per month.
The GoGeek plan allows the account to receive up to 100,000 visitors per month.
The Startup plan allows for up to 10,000 visitors a month.
What are some of the other frequently asked questions about Siteground?
Is Siteground any good?
Yes it is. But it is good in terms of the value for the money that you will be spending.
Is Siteground better than Bluehost?
I've not used Bluehost, but I've seen many affiliates promoting it over the years. I still think that Siteground offers better value for money compared to Bluehost, which is why I opted for Siteground.
Is Siteground secure?
Yes it is. However, you will need to make sure that you keep your website secure.
Is Siteground better than GoDaddy?
I find Siteground easier to manage than GoDaddy. But this is from my personal experience.
Should you go with Siteground?
If you plan to manage more than one site and you have goals to grow the traffic across those sites, then yes.
If you plan to only have one small site, then Siteground isn't right for you.
If you plan to have a huge retail site with excess of 100,000 visitors a month, you will need to contact the Siteground team to make sure that they can provide your site with the exact services that you need.
Click here to compare web hosting plans on Siteground.
Join the newsletter
Get updates that will allow you to grow your website's income over the next 12 months.