Optimising Pinterest has been interesting. Since publishing the last post about 'How to rank on the first page of Pinterest', I've actually learned more about the influence of the Pinterest board's activity. I'll admit that it was an oversight on my part when doing it the first time around, as I'd never seen any evidence to back this up. But after researching the success of other Pinterest boards and testing the theory on my own board, I have seen similar results occur.
It seems like the more regularly pins are shared to the board, the more visibility the content from the board will receive.
With increased visibility, there's an increase in repins and saved pins as well.
It seems to work like a snowball effect.
The other thing that we have found is that it works well when you curate content. This was another oversight on our part, as we were only promoting our own content on our own boards originally. Even though our content is good, we simply weren't in the position to publish and share enough content per day to share on Pinterest.
Right now, we are following the 80/20 rule, where 80% of the content that we share is from other websites and 20% of the content is from our own. We are now starting to be seen as a credible information hub, rather than one single source of information.
We have also seen an increase in the amount of followers on our Pinterest account. Originally, we had implemented the follow/unfollow strategy. But I am now convinced that sharing valuable content for your target audience will earn you more followers.
What can you expect from ranking on the first page of Pinterest?
Here are a few screenshots from the analytics of Business Growth Digital Marketing.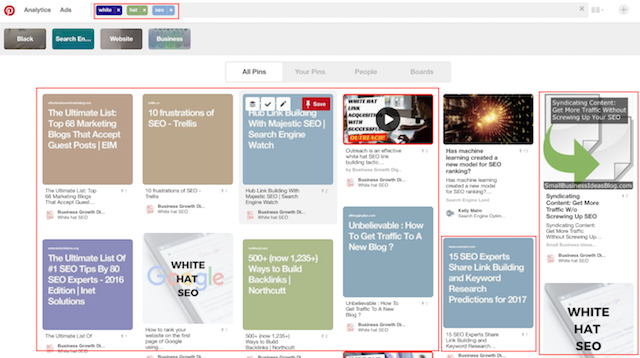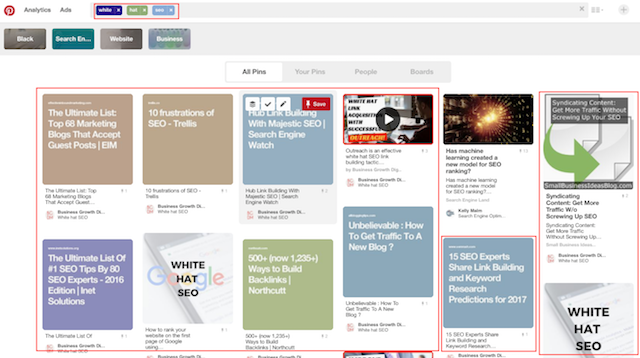 It can be a great way to get free web traffic. And ranking highly on Pinterest can occur in a matter of weeks, unlike doing SEO for Google. Here's a screenshot from Oliviarose.fr's Google analytics showing referral traffic from Pinterest. 


What should you do next?
I think you should look at the Pinterest activities that's occurring in your niche to see if there's an opportunity to generate free and qualified traffic to your website. If so, consider developing your Pinterest account as a lead generation channel.
Note: I want to say a big thanks to Melyssa Griffin for her course "Pinfinite Growth", which shared additional insights that helped us improve our pins SEO rankings on Pinterest. If you're interested in learning more about Pinterest marketing, I'd recommend taking her course.
Join the newsletter
Get updates that will allow you to grow your website's income over the next 12 months.