*Disclosure – This post contains affiliate links.
I love sharing success stories. This one is about Leadpages. They specialise in providing landing pages that will help improve the conversion rate on your website. They also provide Leadboxes, which are pop-ups that you can configure to appear across your site. There are several bloggers that have spoken about the success that they've had with Leadpages. I've been subscribed to their platform for over 1 year and had a mixture of successes and failures with it.
I've been subscribed to their platform for over 1 year and had a mixture of successes and failures with it. Although, my wife who runs her site Oliviarose.fr decided that she wanted to use Leadpages on her website and I gave her access and the freedom to use it in the way that she wanted. Since she has used the platform, she gained over 100 new subscribers in one month.
In this case study, I will share how she used Leadpages to improve her subscriptions and opt-ins and how you can do it too! At the end I will share the results since she implemented Leadpages onto her website.
She developed a customised conversion page.
The first thing that I like about Leadpages is the ability to easily setup a web page that can convert people into subscribers, leads or customers. When you log into the platform, you will be given the option to select from existing templates that have been proven to work by other web entrepreneurs, as you can see below.
Alternatively, you can create your own custom web page.
Here is an example of one of her pages.
Configuring it to your CRM provider.
Leadpages gives you the option to receive notifications directly to your email or to your CRM provider. If you want to simply receive the notifications to your email, you can customise the settings to an email of your choice.
CRM integrations
Alternatively, you can send the data to your CRM provider. She uses Mailchimp to automate her subscriptions and initiate her email sequence. Leadpages makes it easy to sync your Mailchimp account. There are other options such as Salesforce, Constant Contact and more, but I can only say that the integration has successfully worked with Mailchimp.
Configuring it in WordPress.
We use WordPress as the CMS (Content management system) for our websites. Once you have subscribed to Leadpages, you can download their plugin, which will sync your Leadpages and Leadboxes from the online platform. Once you have uploaded Leadpages, you should see the plugins appear in the menu bar on the left hand side.
From there, you can open the plugins and customise your landing pages and pop-up boxes.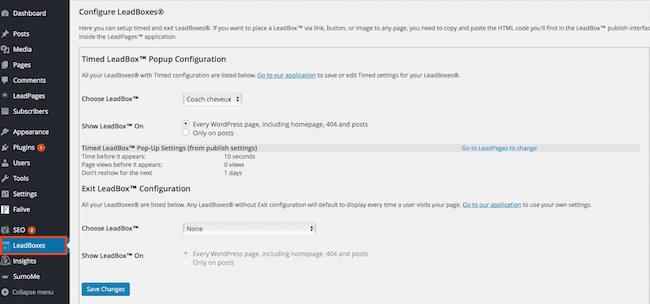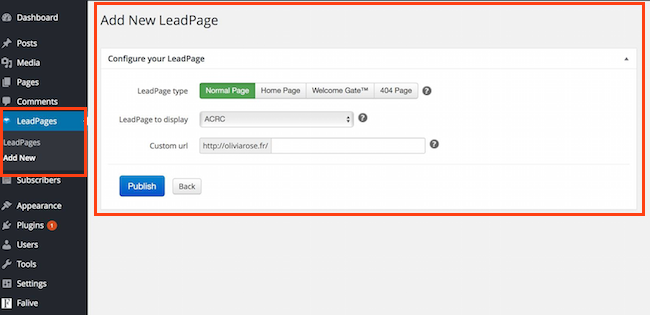 If you don't use WordPress, you can also implement Leadpages and Leadboxes with HTML code. If you are familiar with HTML, can insert it into the relevant web page. If not, you can forward the code to your web developer who will be able to insert the code for you.
Note: You will need to make sure that your PHP is up to date otherwise LeadPages may not display. This only occurs if the PHP is quite old. Check with your web hosting provider to see if your site's PHP will automatically update or if you need to update it manually. Also check whether or not it will have any impact on the way that your site will operate or display its content.
Welcome Mat
The welcome mat is one of the highest converting landing pages on her website. Simply put, welcome mats work if you want to increase your website's subscribers. Some bloggers that have a welcome mat or lead capture page cite a 17% conversion rate. If they are getting 100 visitors a day, that is 17 subscribers a day, 119 a week, 476 per month and 5712 a year. If these subscribers are potential leads for your products and services, it's likely that you will sell to them and grow your business's revenues.
You can see an example of her Welcome mat below.
Click trigger opt-in pop-up boxes.
There are several click-triggers that you can implement with Leadpages or Leadboxes. She implemented these as hyperlinks or coloured buttons within her content to prompt the site's visitors to download or subscribe to her website.
There is this function within other platforms such as SumoMe, but the one advantage Leadpages has is that you can implement these click triggers on external websites as well. So if you're guest blogging or publishing posts on other social media sites, you can still use this to capture leads.
Product pop-up (Leadboxes)
She created display advertisements on her website to advertise her coaching course and subscribe on her website.
These banners were linked to a Leadpage that would prompt a Leadbox to pop-up when clicked on. You can see an example below.
The lead page prompts the visitor to either express their interest in the service or to download a giveaway from the site. Once the person submits their details, they get added to the email marketing list.
How did she make it more effective?
She improved her subscriptions substantially by giving away something of value in exchange for an email address. She developed a 'lead magnet' that would satisfy her hungry market. Her market consists of Afro women that want to know how to manage and maintain healthy hair. Her first giveaway was a list of 30 protein free products that could be used on Afro hair.
It is important to develop content that sells your proposition.
There were different types of content used to pitch and promote her Leadpages and Leadboxes. One thing that she kept in mind was to 'Satisfy her hungry market'. She accomplished this by:
Creating ad copy that appealed to her market.
Creating detailed and valuable blog posts.
What were the results?
Leadpages provides analytics data about the campaigns that you run. For Olivia Rose, you can see the results below.
As you can see from the statistics, Leadpages was effective for bringing in subscribers and leads.
If you want to learn more about conversion rate optimisation, you can check out our other case study showing the benefits of using SumoMe, however it doesn't give you the function to develop customised lead pages.
Thanks for reading. If you have any thoughts or feedback, please leave a comment below.
Click here to try out Leadpages.
If you want another good email CRM provider, we now use Convertkit to help with the email automation.
Click here to get the free subscription to Convertkit.
You can also click this link to enquire about our email marketing services.
Join the newsletter
Get updates that will allow you to grow your website's income over the next 12 months.